Collection: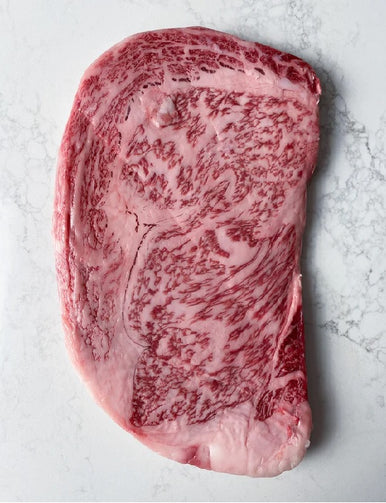 Collection:
Miyazaki A5 Wagyu Ribeye
Miyazaki A5 Wagyu Ribeye
Regular price

Sale price

$170.00
Japanese Wagyu, renowned for its exceptional quality, exhibits unique terroir characteristics that vary from region to region. The award-winning selection being discussed here is directly sourced from the Miyachiku Cooperative in Miyazaki prefecture, Japan.
In Miyazaki prefecture, there are around four hundred farmers dedicated to raising cattle. The low farmer to cow ratio ensures that each animal receives the necessary attention and care to produce the world's finest Wagyu. The cattle in this region are primarily fed a diet of wheat and corn, which contributes to the distinctive qualities of Miyazakigyu beef. This beef is known for its bright red color, tender texture, and rich flavor.
To fully savor the Wagyu experience, a hard sear on high heat is recommended, allowing for a caramelized crust to form on the surface. Alternatively, paper-thin slices of Wagyu can be gently warmed using a blowtorch, which further intensifies the flavors. The meat itself is so flavorful that it can vividly saturate the palate, so it is best to keep the accompaniments simple and elegant, allowing the Wagyu to take center stage and be the star of the dish.