Collection: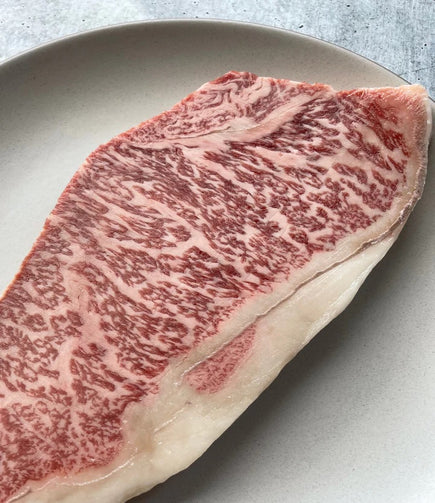 Collection:
Kagoshima A5 Wagyu Striploin
Kagoshima A5 Wagyu Striploin
Regular price

Sale price

$145.00
Kagoshima, a prefecture located in southern Japan, is characterized by its picturesque landscape of active and dormant volcanoes, as well as a warm, tropical climate. Thanks to its favorable environment and the presence of the Kagoshima Black Cattle breed, which is native to the region, Kagoshima contributes a significant portion of Japan's overall Wagyu production. Just like all our A5 Japanese Wagyu, this selection represents the highest quality beef available worldwide, with classification standards that are rigorous and transparent, allowing each prefecture's unique characteristics to shine.
Wagyu from Kagoshima is renowned for its tender texture, rich and robust flavor, and consistent marbling that permeates every fiber of the muscle. One glance at this beef is enough to dispel any doubts about its superiority, which can be attributed to the unparalleled efforts made by Japanese Wagyu producers to ensure that their animals lead low-stress lives and undergo meticulously managed processes.
Beef of this caliber provides an incredibly satisfying dining experience. With the Striploin cut, it is enjoyable to sear it quickly on high heat, creating a caramelized exterior while maintaining the juicy tenderness within. However, simpler and more delicate preparations, inspired by sashimi or tartare, can also highlight the exceptional qualities of this Wagyu.